The 20/21 ROUVY season starts now! Based on community feedback ROUVY's team will release multiple improvements and changes to ensure the best realistic user experience. All ROUVY users will be able to enjoy new race options and features.
Following the announcement of these incoming changes, new features will be effective in ROUVY AR 1.2.0 from October 1st, 2020.
NEW FEATURES RELEASED AND ENABLED:
Introduction of "time-trial" and "race" modes displays the difference for the 'drafting-disabled' and 'drafting-enabled' results.
Rankings Update with Route Leaderboards reset - due to the implementation of the new speed model calculation all route records have been reset. All race results are saved in the season results. (All riders will have to create new route records again.)
2020/21 Career Season Start with new partners and up to $20K in the nominal prize value. Check out new tasks and start planning the season now!
Virtual Running (public beta) - yes, now it is possible to run on ROUVY as well. If you've got or plan to acquire a treadmill, check this out.
XHALE integration - extending the integrated ecosystem all XHALE users can enjoy an easy and automatic sync with ROUVY.
PRICING UPDATE
As the multi-months subscription plans are the most popular ones, we have decided to introduce them again!
ROUVY's monthly subscription will be available for purchase at the price from $12 per month annually.
SUBSCRIPTION OPTIONS effective from Oct 1st, 2020
1 month - $15/month
6 months - $14/month
12 months - $12/month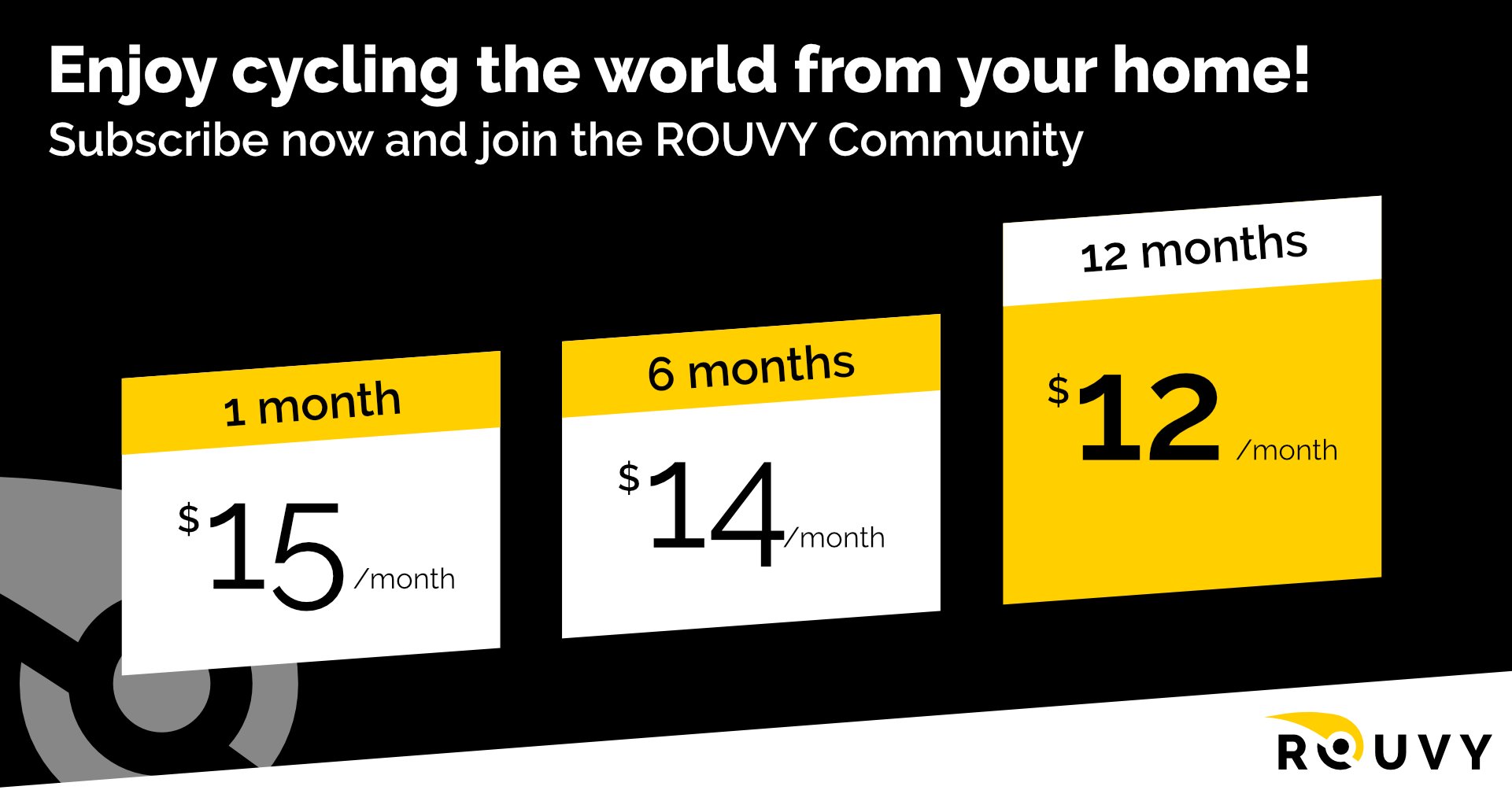 PRICING DETAILS
Most attributes of the subscription stay unchanged:
With one price and subscription all users can use all apps (both ROUVY AR and ROUVY Workouts)
'Family Sharing' feature (2 more family members per one subscription) stays unchanged.
5 devices per one account/subscription limit stays unchanged as well.
Of course, there will also be a lot of official races and group rides ;). Have a great training season and stay tuned for further announcements!