Intro
Teaser 1:
Teaser 2:
New Features - Highlighted Functionality
Here is a quick overview for this release. After watching, you will be ready to go and download. :)

For those who did not go immediately and download, but want to learn more, let's take a look at the new features and details.
REDESIGNED UI AND USER EXPERIENCE
A few words need to be said about the approach. With the design of the new app, our team wanted to get rid of all the annoying issues with the old, past interface, and take into account feedback accumulated over the years from our users, partners and community. So, the #1 priority for the new app was SIM-PLI-CI-TY - while the basic concept and underlying technology did not change on both Augmented and Virtual Routes - everything is still about the rides at your favorite locations, iconic cycling places or next race.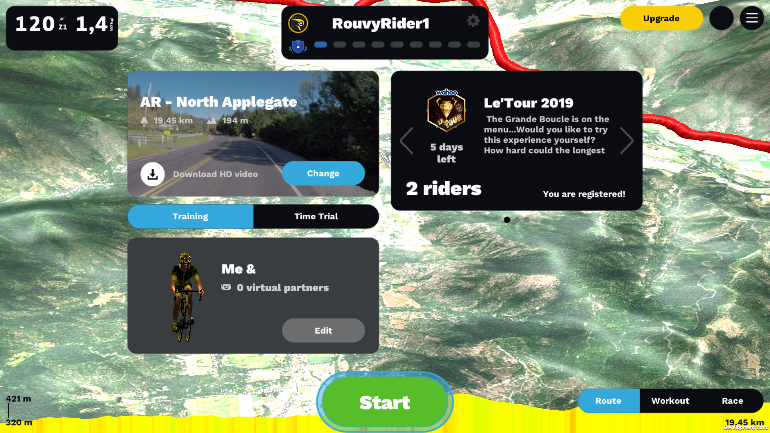 *This a start screen. In the future, the fourth plate in the middle right part will show up, demonstrating your last activities and results.

From the start screen, you are just 1 Click away from:
Starting a ride

Choosing a Route

Joining a Challenge or Race (Time Trial)

Connecting your sensors or trainer unit

Accessing main settings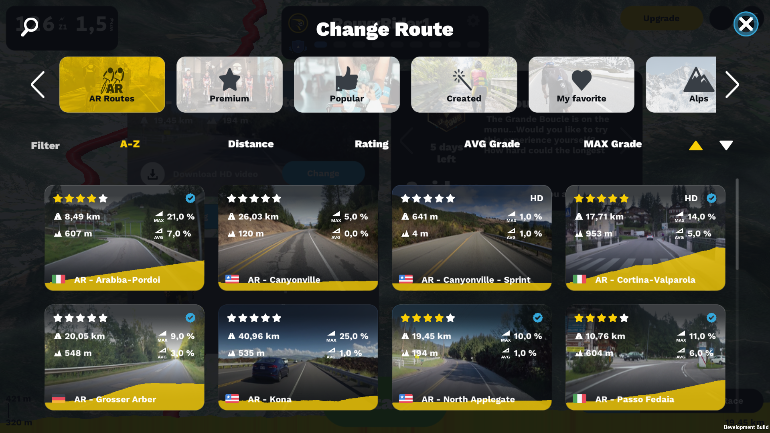 *New Route Gallery View, all interactive

This is what the brand-new app concept aims for and does provide: the utmost simplicity and immersiveness. A high level of immersiveness is achieved with the improved FULL HD video quality for existing apps and QHD availability in the new app. And the next point is just about that.

"4K READY" / QUAD HD VIDEO QUALITY
The video resolutions of 540p, 720p, 1080p are available now for online streaming, and 1440p (QHD 2560 × 1440 pixels) only for downloaded routes.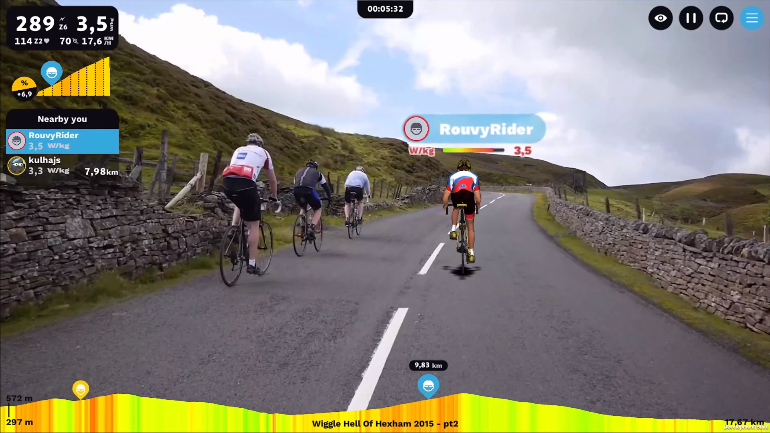 The current release ends the public beta period for our augmented reality/routes (AR) as a feature. The new app enhances Augmented Routes 2.0 - completely auto-smoothed elevation profile with a top-level, realistic immersive feel and much better video quality - 1440p with the super high bitrate -> comparable to 4K. Extended description and details are here.

Streaming 4K is very challenging for both the server side and user's network infrastructure, but one day it will be there. With the available QHD, we are just one ladder step closer to that goal.

UNLIMITED VIRTUAL PARTNERS
Basically, this feature allows you to simulate any race...Yes, any race from the past or any race still to take place in the future. No more 1-3 rider limitations! Do you want to ride in a crowded peloton? Just click as many times as the number of riders you want to see on that course and...voila!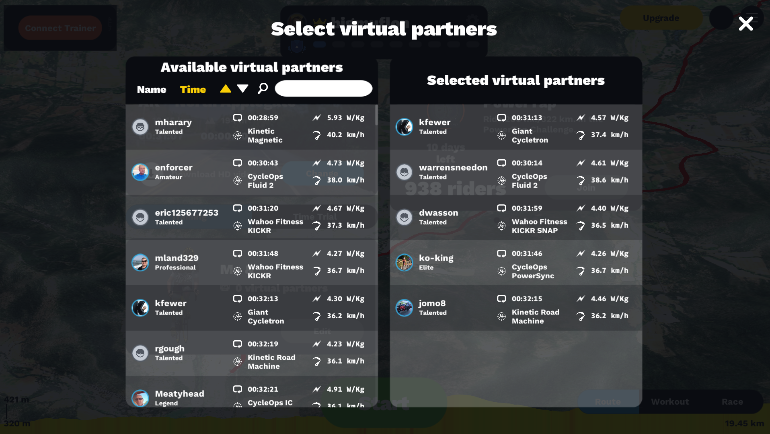 Any ride and record can be visualized and replayed, based on on the real second-by-second historic ride data. If you don't like to be compared to others, you can switch to a comparison of yesterday's you and your own best efforts. Just put your nickname in the search window, and choose only your records from the past. Yep, welcome to the Matrix! You are in a race with a dozen "you's" all around. Don't fail that one - your own projections are watching you! ;) No, it is not a fairy tale and you are not a magician, but it works just like that.

GROUP RIDES
Nothing changes. You will see any riders in real-time if they are on the same AR course at the same time as you. To ride together, bring your friends online or find riding partners in the Rouvy Athletes group.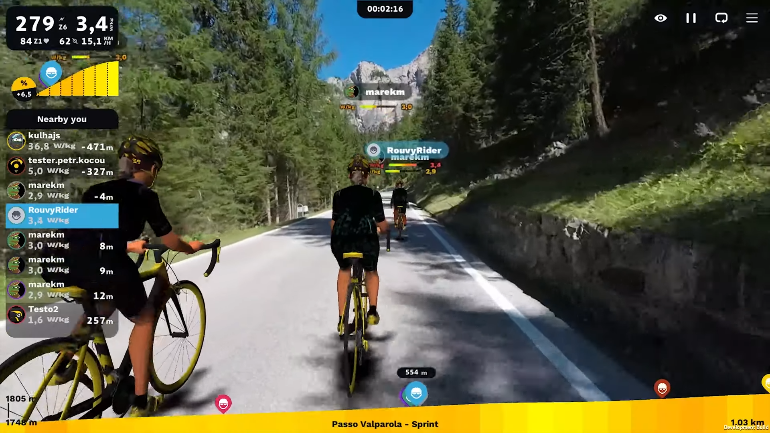 A little spoiler here: official group rides for different time zones are planned for the upcoming winter.

CUSTOMIZED RIDER MODELS
Avatars now have the option to be modified with the possibility of changing their jersey, apparel color and skin color.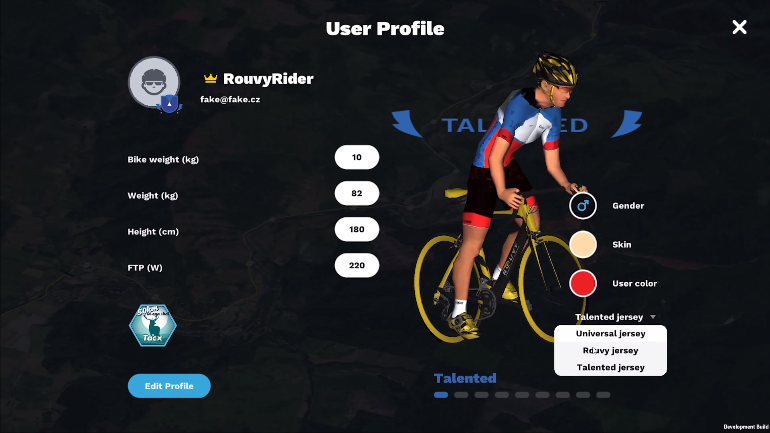 Both male and female 3D models were improved. Once you test and check them out, let us know if you like them.

QUICK AND REDESIGNED TRAINER CONNECTION
The connection process has been automated to the highest possibility that the hardware allows at the moment.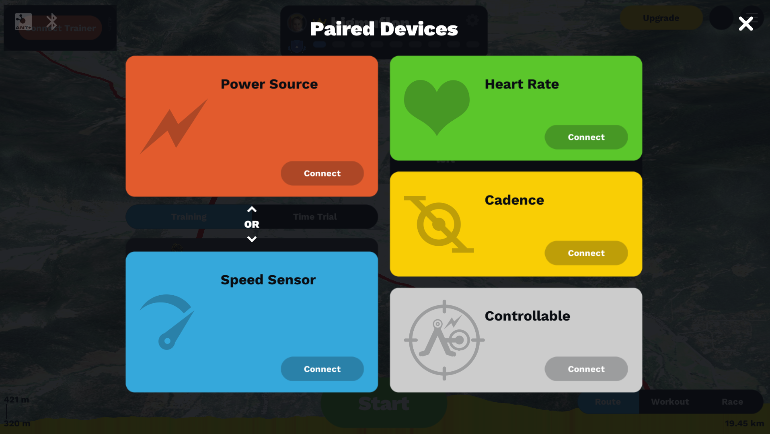 With a click on "Connect Trainer," the app will scan the available sensors in the vicinity, (without browsing any long unfolding equipment lists) and all you need to do is CLICK to confirm the chosen sensor. Yeah - that is it!

NEW AR AND STANDARD ROUTES
Following our tradition, a part of every big release is new exciting roads to explore.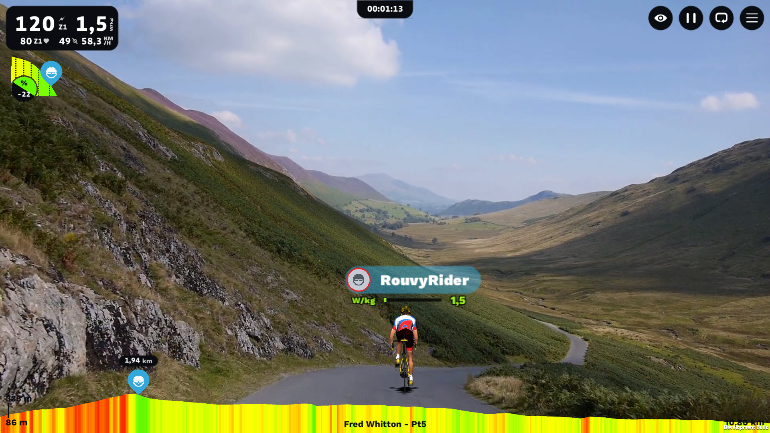 This time, we ride some UK Classics in Scotland and the UK. Find the full overview of the new released routes in this blog post.

PRICING: ABSOLUTELY FREE WHILE IN BETA
Yes, you read it correctly. No charge for the Mac and Apple TV app while it stays in public beta. Once the public beta period is over (expect at least a couple of months), the app will charge according to our present pricing plans. (Make sure to go over the beta limitations marked at the end of the post.)
DOWNLOAD places:
Find and download Rouvy AR here for Mac, or Appstore for Apple TV.

THE ROADMAP FOR OTHER APPS:
We plan to release new features in the next few months for all other platforms (Win, iOS, Android) as well.

With that, keep pedaling and enjoy your rides and training on Mac and Apple TV!
UPDATE:
January 22, 2020: ROUVY AR is released into beta for Windows and iOS. Android is coming soon as well.

P.S. Read carefully the following limitations
Apple TV's technology-related, specific limitations:
only Bluetooth (for connection of any specific ANT+ device to Apple TV, you can buy an ANT+->BLE adapter)
max 2 connected devices
if you are a new user, you have to create a Rouvy account via website www.rouvy.com
(not possible in Apple TV)
Public Beta App Limitations:
Before contacting our help desk with anything related to the new app for Mac and Apple TV, please go through the full list of public beta limitations.