Greetings, Eddy!! At first we would like to thank you for your time for Rouvy interview!
What is your home country and the town where you spent your childhood?
It gets a bit complicated here. My home country is Belgium, and I spent my childhood in the little town of Membruggen. In our dialect, we call it "meumerke;" hence, my nickname on Rouvy. However, in the nineties, I migrated to Canada, followed by a migration to Australia. I became an Australian citizen in 2005. Due to some personal mishaps, I moved back to Belgium, but experienced complications - since by becoming an Australian citizen, I lost my Belgian citizenship! Now I am considered an immigrant in my own country of birth! Haha. I am moving back to Australia when opportunity knocks though.

Please, could you describe your story of getting acquainted with cycling and your first bike?
Growing up in Belgium means cycling! During school holidays in summer, after watching every stage of the TDF on TV, my friends and I would go out on our bikes and copy the pros! My first bike was my sister's old bike! At the age of fourteen, I started cycling with the newbies in Belgium, and my first real bike was a Novy. They all came in one color - blue.

Where are you based at the moment?
I am based in the Belgian province Limburg, with an amazing number of cycling paths available.

What are you doing outside of the training room (workplace)?
I work in logistics.

How does look your "PainCave" (bikes, trainers, accessories)?
Wahoo Kickr, Ridley X-bow permanently mounted on the Kicker, 32" Samsung TV.

How long have you been training on Rouvy?
I started off on Rouvy in early 2018. Unfortunately, due to serious injuries sustained in a fall while cycling, I had to interrupt my training on Rouvy for about 4 months.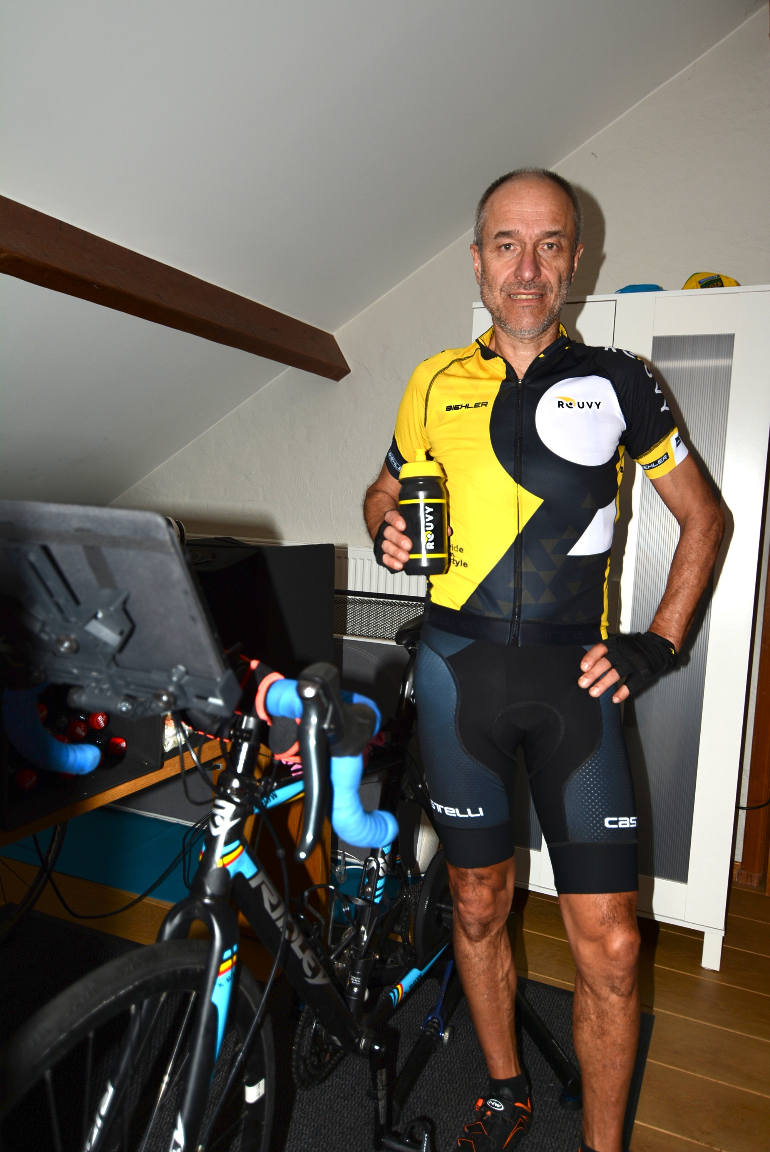 Wow, it is a great job to train and become a Legend in such a relatively short time!
Which types/brands of trainers have you already tried? Which one is/was your favorite?
I started off with a Wahoo Kickr and have never tried another one...because I am happy with it.

How many hours per week do you usually spend on a trainer during the winter season?
Ranges from 8 to 12 hours weekly, depending on my training schedule and Rouvy tasks!

Did you focus specifically on a "Rouvy Career"? When did you start?
Last year, my Rouvy career was seriously hampered by my cycling accident, and I fell short of making it to "Legend." I had to start over in October, when all the career levels had a general reset.

Which task was the hardest one for you to accomplish in "My Career"?
Once you hit the National Champion level, everything gets difficult. The Challenge Roth and Ardennes take a lot of time on the saddle. Of course, getting 10.000 TSS at the World Class level is not for the faint of heart. It takes a lot of long rides to get that amount of points together.

Which feature do you consider as most useful in Rouvy?
All features are useful in Rouvy, but I like the Augmented Routes and the virtual partner feature.