Hello Artur, at first, thank you for your time for Rouvy interview!
What is your home country and town where you spent your childhood?

I was born and live in Katowice, which is a city-capital of the Silesian region in southern Poland.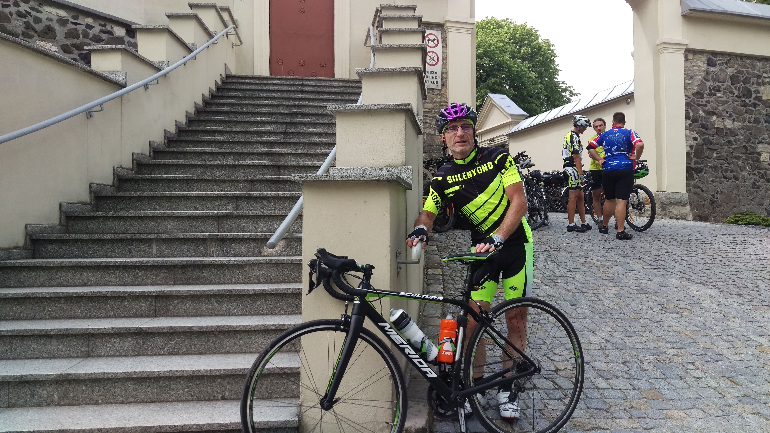 Please, could you describe your story of getting acquainted with cycling and your first bike?

I became interested in cycling in mid-2017. When my son graduated from the second class of primary school, I bought him a bike as a gift. Then, while shopping, my wife also wanted a bicycle. After a few days of thinking about it, I decided to buy a bike myself. :)
Because I have a passion for fast sports motorcycles, I decided to buy a "road" bike. I chose a Merida Scultura 200 "Disc" model 2017. And so, my adventure with cycling began.
For a long time, I did not enjoy it because CF2 Carbon Fork models had a significant impact, and Merida implemented a service campaign. It was supposed to take several months, so I decided to "give back" the Scultura 200 Disc and, for an additional payment, I bought a "Scultura 500" with traditional brakes.

Where are you based at the moment?

I do not really understand the question. :( When it comes to where I live, I reside in Katowice. :)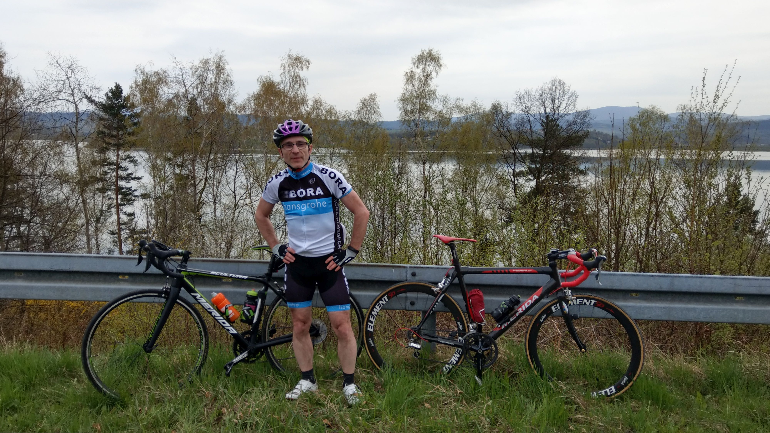 What are you doing outside of the training room (workplace)?

In addition to cycling, I work professionally in construction services in the field of electrical installation. I'm a cost estimator. For the past several years, the company in which I work has provided services to an investor realizing office space for rent.

How does it looks your "PainCave" (bikes, trainers, accessories)?

My bike is the "Scultura 500" model 2017. I equipped it with the "Power2Max NGEco" power meter, the "Wahoo Elemnt" bicycle meter. This past week, I just installed the Di2 Ultegra R8050 system. Of course, I use the HR belt (UnderArmour or Magene).
Just after launch in September 2017, I bought the "Elite Direto" simulator.
Thanks to it, I use platforms that make driving easier during autumn and winter-spring periods when the weather does not allow driving in outdoor conditions.

And how long have you been training on Rouvy?

With "Rouvy," I became more connected in the beginning of the winter period in 2018. The first time I met with Rouvy in June, my wife was spending several days in hospital, and I could not drive outside due to the care of her 9-year-old son. But then, I only had a few routes.
Natoamist from September/October, 2018. I began to treat Rouvy seriously in the aspect of "Career." I like big and difficult challenges. Add to this the fact that for a lot of routes in "Rouvy," there are very good videos - what more could you want?

Which types/brands of trainers have you already tried? Which one is/was your favorite?

As I mentioned, I have an "Elite Direto," but last year in September, I received a test for several days from a friend who is a distributor of equipment - the "Wahoo Kickr Core 2018 + Wahoo Climb". As far as the "Kickr Core" simulator itself, it did not impress me; but the "Wahoo Climb" is a very cool solution, and I think other manufacturers will introduce tethers.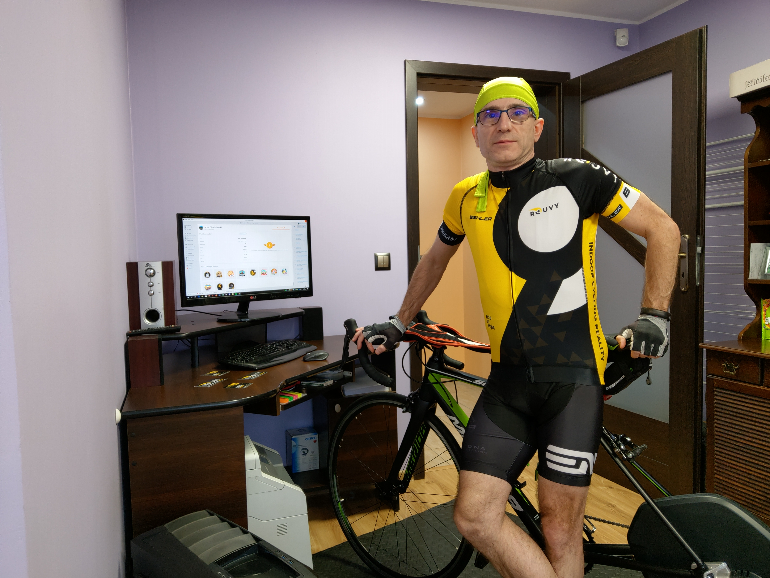 How many hours per week do you usually spend on a trainer during the winter season?

Checking my "statistics" on Stravie/TrainingPeaks, I spend on average 10-11 hours a week.

Woow! Great job! Did you focus exactly on a "Rouvy Career"? When did you start?

I started my "Rouvy Career" in accordance with the start of the calendar, which began October 1 as my "zero counter" day. :)

Which task was the hardest one for you to proceed in "My Career"?

That's a very difficult question. :) There were several routes that were generally difficult, and my driving "head" suggested: "Why don't you get off your bike and let it go?" However, stubbornness and ambition took over, and I always finished my ride! :)
The "Haleakale" mission was difficult - a big surplus. "Otztaler Radmarathon III" was also not easy. I would say the same about the "Ardenne." As I mentioned earlier, there are difficulties during the ride, moments of doubt; but, after finishing the ride, I quickly forget about it and choose another goal. :)
Generally, due to weight and height, it is much better for me to travel with surplus, but I 'lose' a lot on routes where there are descents. Such is the law of physics! :)

Which feature do you consider as most useful in Rouvy?

Good features in "Rouvy" are definitely the video materials and an editor that makes it easier to upload my own tracks with video material. Another good element is a more precise analysis of activities in the form of tabs "Power/work," "Peak & Surges," "Zone & Laps," and "Graph." On the website side, there are also statistics regarding activity - this is a good solution.

Do you still miss something in Rouvy App? Any particular feature?

I have suggested some features that would be welcome, from my point of view, on the "Rouvy" platform. I would like the map in the "Mini-view" window to be able to rotate, so the "driving direction is always at the top," as it happens in car navigations. Currently, the route and the avatar leads once down, once from left, right or up - you never know at first glance what the direction is. :)
Another useful function would be to mark block stars during a workout, for example, that were made according to the assumptions and within the tolerance limits of the training block. It would allow the player to assess "at first glance" whether a given block, as a consequence of the whole training, was made by him or her correctly and reliably.
I would also like to be able to create workouts in such a way that you can create blocks without the ERG mode. This is what the test block should look like in the "FTP Test": after the initial Warm-Up, the intervals based on % of the power previously inserted FTP, the test block itself should be "free ride," i.e., without ERG, without SLOPE. At the moment, it is not possible to create such a block in "Rouvy," which is a pity. :(

Why do you think each cyclist should try Rouvy?

Personally, I recommend the "Rouvy" platform because of its very good videos for a huge number of routes - many so-called "cult" routes, the ability to create your own routes, even with the addition of video.
What is also undeniable is that the price for the "Premium" version is affordable, which should affect the resulting choice of your product.
As an added value to "Premium," there is an extra solution in the form of the ability to add up to two shared users. It's a good option to let our friends, who are not yet convinced about "Rouvy" and who occasionally use the trainer, to "go" after the end of the trial period.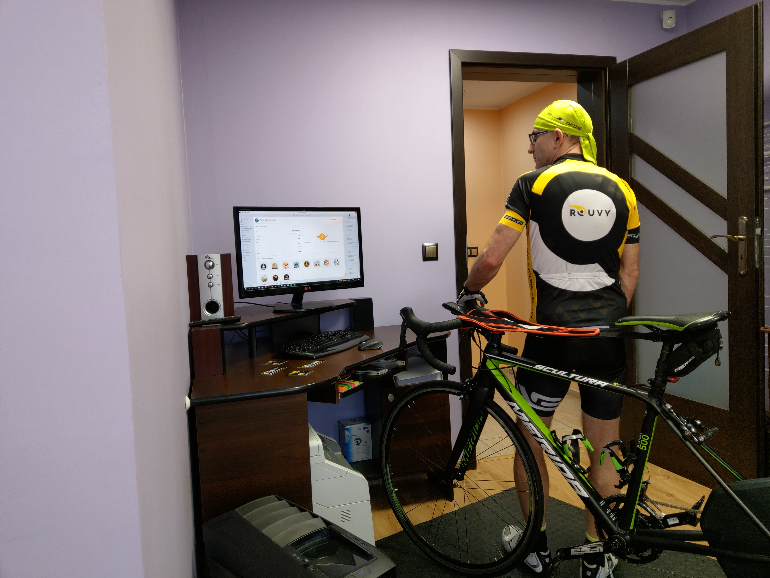 How do you balance your work, personal life and cycling training?

It is extremely difficult to implement. :)
Work can sometimes be a "problem" because you just have to do it. But between my "private life" and "cycling," there can be a problem because the latter often takes a huge part of it. So, how do I deal with it?
Moderation and sound judgment - everything must be right. For us, first and foremost, we are amateurs. The situation is different among professionals - in their case, it is just a job and a profession.
So, let's ride our bicycles, but let's also remember to spend time with our families, relatives and friends.

Do you have any advice or final encouraging words to the cycling community?

Colleagues, friends and acquaintances: let us ride bikes of various classes, but let us be kind, cultivated and polite to ourselves and others. Do not look at the tip of your nose. Let us respect each other.
Let's take advantage of the many opportunities, but let us do sporting activities without forgetting about our families and friends. During competition, let's play fair!
Nice! :-) Thank you for taking the time to chat, Artur! One more congratulation and all the best from the whole Rouvy team for your cycling efforts!

We hope you've enjoyed this interview as much as we have. For his great achievement, Artur received a package containing a new Rouvy jersey and cycling bottle.


Keep up your pace and ride on, Artur!